This past weekend I took a trip down to Michigan to hang out and skate with some homies that I met up with last summer. Friday night Justin and I just took a cruise around downtown Detroit for spot ideas and to get a look at all the freakin' weirdos down there. It all came back to me how much I really loved the place!
Saturday was a bit of a change from just cruising around. Out at noon and in by 2am, it was a shred mission! For the most part, we stuck to downtown Detroit with Dave, Adam, Tony, Daryl and Ben. The day went pretty smooth seeing as there wasn't one security guard interaction the entire day, it was a nice change.
On Sunday we kept it a bit more mellow with pretty much the same crew. This time we stuck to the 'burbs and actually had more problems with superhero-citizens and police than we did downtown. Bummer. Regardless, we kept on with our day heading from spot to spot. Soon enough the day came to an end and I had to head back to good 'ol Canada. It seems like there's never enough time to stay, skate and hangout with all the Michigan dudes.
Adam, tre flip to the skinny.
Ben, ollie up backside flipper.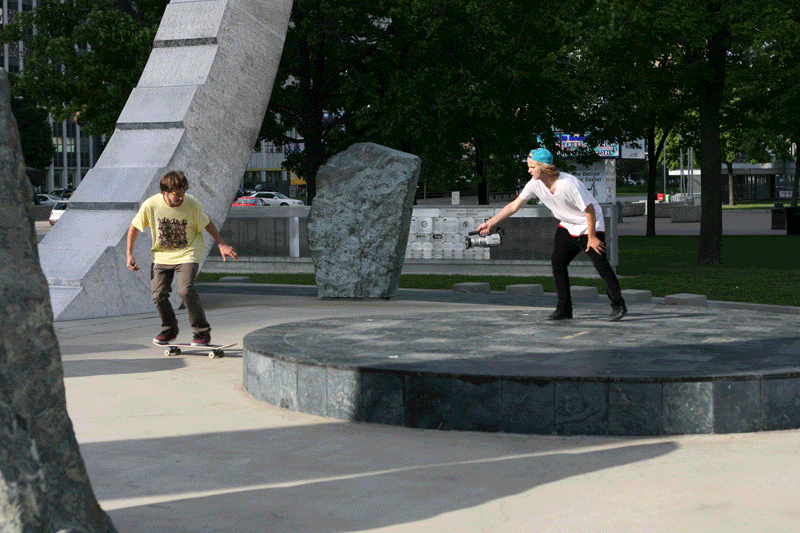 Adam with a pretty-lookin' front shove.
Dave, nose manny around.
HOT OFF THE PRESS! Justin with a casual
back tail.
"Look Ma, no hands!" Justin again with a switch
crook pop out.
Adam, backside flip at turbo speedz.
Chris came through with this gnarly back
50 and popped back into the bank.
Seems like the minute I get back from Michigan
I'm making more plans to get there again.