Monday was the last day of the long weekend, and knowing skate rats, we had to make something of it. So we went to Waterloo. First we hit up the Parkade. We got a few wallride shots in and after we got to race down, it was intense. Next we went to Laurier, and skated a bench and their small handrail. It's pretty good there, but always a bust. Next we went to an undisclosed area to find this huge gap Josh was so sure about, and low and behold, we found it. It was fucking huge. He took some really heavy falls, and in the end, really did a number on his ankle. I can't release anymore information about this gap until he does it. Get Gnarly!
wallride! mind the hand plant..
BS Board Laurier rail
gnaaarrred hand.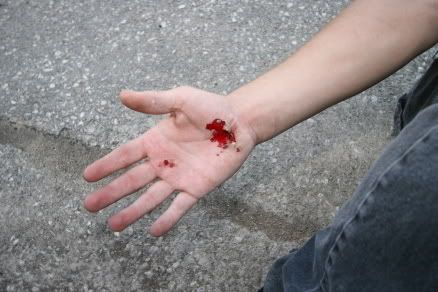 hush hush on the gap fo' now!